Gough Whitlam has died; he was a towering figure in the Aussie landscape of my very young adult years.
I am sure many people of around my age, young at the time of Gough Whitlam's prime ministership, will be having all kinds of reflections on his impact upon their developing years. These reflections are entirely personal, and even relate a great deal to the way my work life developed, including teaching meditation in health care settings.
During much of my boyhood, perhaps 9 years old till 19, Mr Whitlam was opposition leader in the parliament. I well remember the radio and newspapers announcing that he threw a glass of water in the face of Liberal MP Paul Hasluck when Hasluck insulted him (my family did not have TV). "Bravo" I thought – this politician may not be as boring as all others seemed to a 12 year old!
"Boring" was prime minister Bob Menzies! He was the everywhere man through all of my childhood. PM at the start of my childhood and still so at the end of it. Always there in the newspaper and radio reporting. My mum constantly had ABC radio on in our home, mainly for the classical music, but always interrupted on the hour by those news bulletins with their etched-in-the-memory musical introduction. And endless mentions of prime minister Bob Menzies forever sounding so rock solid. But as my childhood moved on I remember more and more mention of his colourful opponent, Gough Whitlam. Who was this outlandish character, the water-thrower, who dared try to upset the apple cart of conservative, suburban Australia?
My aside on PM Bob Menzies is that at weekend family dinners I would sometimes hear one of my aunties and my father speaking about "Bob and Patti" and it was the prime minister and his wife they were speaking about. My aunt would often have dinner with the Menzies, she was friends with them. I was too young, or uninterested to enter those conversations. My aunt kept up her friendship after Menzies' political career, and kept visiting Dame Patti also till her death in the 1990s. I loved my aunt and she took a huge interest in us nephews and nieces. She must have been pretty conservative in most views to have had an enduring friendship with the Menzies, yet she was an independent, trail blazing lady in some ways. A school teacher, she became Head Mistress of a girls School in Melbourne and held the post for many years. Even to go to university when she did, as a girl in a widowed, fairly poor family, was quite a feat. She never married. She had a few male friends whom we would hear about, and they were mostly married. She had a number of close female friends, probably mostly from her career in education. Was she quietly gay – something that simply wouldn't have come out in the 1950s and 60s? Quite possibly. I didn't really think about it till after her death 11 years ago. And all power to her if she carried that off in those very conservative years. I am sure she would not have discussed it at her dinners with Sir Robert and Dame Patti Menzies!
The above paragraph helps set the scene for the eventual triumph of Labor, and Gough Whitlam at the December 1972 federal election. Suddenly a Whitlam government after 23 years of Liberal control, much of it under Menzies.  I turned 19 the day after that election win. At 19 I was supposed to register for the ballot for national military service, which then involved fighting in Vietnam for many conscripts. Gough Whitlam immediately announced an end to conscription, and enacted it within days – no waiting for a full cabinet of ministers to be set up. I was relieved of my impending decision on whether to register or be a 'draft dodger'. I think I was leaning toward 'draft dodger', but was blissfully not thinking about it much.
At that age though, I was beginning to be aware of political realities including Australia's involvement in the war in Vietnam. [I deliberately don't call it the usual "Vietnam War" – that war had many names – Vietnamese often call it the "American War". Depends upon your perspective, I am sure.] I still have in my possession a yellowing, full page spread from the Melbourne Sun of the previous year, 1971, all about the massive anti-Vietnam war moratorium in the streets of Melbourne. Something like a quarter of a million people packed the streets for many blocks spreading down Burke Street and Spring Street, from Parliament House. I don't know if there has been a bigger protest of any kind, before or since. Among the photos are one of the stage, at the steps of Parliament House, featuring Dr Jim Cairns, then in Gough Whitlam's opposition, Dr Spock from America (not the Star Trek Spock) and folk singer Glen Tomasetti. And there in the picture, very close to the stage, is the head and side-face view of … yours truly. I was there as a Year 12 school student taking the day off school. Actually, a school friend and I managed to borrow the school's super 8 movie camera and go to the moratorium to film it as an 'extracurricular activity'. My friend Marcus Carter was known in the school for his serious creative endeavours; I was not, but I got to tag along. A memorable day it was and he made an excellent little doco of it with a fitting sound track from the times.
From that day on I did follow the promises and campaigning of this Whitlam & Cairns opposition. I can't remember if I voted – I wouldn't have I guess, since it was the Whitlam government that lowered the voting age to 18. There was that rousing "It's Time" campaign; and then the celebrations, euphoria and excitement of that night, the election win. I guess it was unthinkable that the William McMahon Liberal government should win. If Menzies was 'boring' he was certainly a towering, impressive figure, in speech and in every way. But by this time we had had Harold Holt (taken by a shark or a Russian sub), John Gorton, and now Billy McMahon. Billy was every bit as "boring" as Menzies, but in no way a towering figure. Nothing against being small in stature, but his speech was rather timid and his thoughts seemed very small.
So, what did I make of that first year of this bold new government, that had suddenly relieved me of that military / Vietnam dilemma. This government that was no longer "boring". Well, the funny thing is I didn't follow it; I went away to the country, and then left Australia for a couple of years. I didn't return till the Whitlam government was in turmoil.
I had just completed first year studies at Monash University, and deferred my studies indefinitely to look at other sides of life. In the new year, pretty soon after that election I hitch hiked up to the Riverina in NSW, looking for work. I worked on a couple of farms briefly, then on a vineyard at Robinvale for quite a few months, saving money. I doubt if I read a paper or heard the news once. This 19 year old didn't care what was going on; he was experiencing some freedom, adventure and pretty hard work. Meeting all kinds of itinerant workers and backpackers from many parts of Australia and the world. Little did he know that a new government was drafting plans for free university education, universal access to medical care, recognition of communist China, vastly improved sewerage for all the cities of Australia, and removing sales tax from contraceptives!
So what next? With the money saved on the vineyard I returned to Melbourne, and furiously investigated the cheapest way to get to New Zealand. An old school friend Pete had ended up there after an adventure through Pacific Islands. I found that a passage on a cruise ship going to the UK was the cheapest way to go, jumping off in Wellington. I took my surfboard and thought I could have a good time with my old mate. It turned out to be an important time, different to anything I had planned. And it was two years far removed from Mr Whitlam's golden one to two years. Whitlam's 'turning-Australia-upside-down' all passed me by at the time.
It is three and half days on a cruise ship from Melbourne to New Zealand. As well as the night life of the ship, I found another absorbing activity. On day one I went into the library and found a very well worn old copy of a book on yoga and Indian mysticism, the classic Autobiography of a Yogi. It looked fascinating. It was; I couldn't put it down. By day I sat in the bow of the boat, occasionally looking up at the sea, and passing dolphins, and I read and read and read some more. Fascinating stories. Some of the other young party goers on the boat that I had met would see me and ask me to join whatever they were doing. I would say "sure, I will join you a bit later, just gotta finish something here". And I would remain glued to the book till dinner and the after dinner dancing and whatever. I already had an interest in meditation from some reading and trying it out myself over the last couple of years. Now I had an urgency to find a teacher and learn properly.
Once in New Zealand the surfing adventures with Pete never really happened. He was ready to go off elsewhere, USA if I remember rightly. I had a bit of a surfing holiday, worked on the wharves, as a cleaner in a hospital, then ended up in Auckland. Somehow I got directions to what I was told was a yoga Ashram in a very outer suburb towards the hills, an Ashram where they did meditation. I walked down the gravel drive to the big, very old New Zealand timber homestead, stood on the verandah looking around, and shortly an elderly man walked around the corner and toward me. Elderly, but spritely, wearing some sort of homemade robe and with slightly dishevelled long grey hair and beard. He told me he was the director and teacher there, and asked what I wanted. I stumbled out something about the book I had read on the ship and wanting to learn more. He looked me up and down, smiled and said that he had long been a member of the order established by the author of that book, Paramahansa Yogananda. He said that what he taught was along the same lines. That was enough for me. I asked if I could stay awhile and take classes. He agreed, gave me a bed in a shared room for $5 a week (or was it less? This was NZ in 1973!). He told me to attend the teaching early every morning, which I did, and thus began nearly two years of practice and learning. Learning from him and from various other visiting teachers who would come by from time to time. His was one of the first meditation centres in the country and something of a magnet for visiting Indian yoga practitioners in those days when the subject was not as widespread and well known in western countries as it is now.
There was always somewhere between 8 and a dozen people staying there, many young like myself. Some of us got jobs, part time or shift work at wineries and other places in the area. Some were not much dedicated to the study and learning, but just looking for a place to hangout with other 'hippies' and talk, play music and do very little. I preferred to work in the gardens, help out with maintenance on the property, and attend all the classes. I attended classes with much more zeal than I ever did in my one year of university [later I returned to university and finished a degree, with greater dedication to study, under the Whitlam government-established free system].
I learned a great deal and became a regular, dedicated meditation practitioner. Looking back the teacher, known as "Karmayogi" or just "Guruji" did not teach strictly the same teaching as Yogananda from that classic book. But that was not a problem, he taught a quite reasonable hybrid of methods from several sources he had learned from through the 1940s and 50s. It was very early days for anyone to be a yoga master in our part of the world. Under his tutelage, by the time I left at end of 1974, I was teaching several yoga classes at the centre and other locations around Auckland.
In late 1974 we had a spectacular and devastating  fire at the Ashram.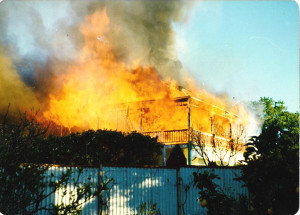 I stayed on awhile helping with an initial clean-up and rebuild. But I wanted to return home and resume studies. I did so and in 1975 entered the University of Melbourne into second year science, doing a range of biomedical subjects. I wanted to further my interest in health, human potential, natural healing and a range of things and see where it would take me. I don't know if anyone studies that way these days. It seems you are supposed to do 'skills training' for very particular vocational work. I just wanted to learn and eventually make something out of it myself. Well, I guess those were the days of a fairly affluent Australia, and the heady days of a Whitlam government that had made tertiary education free! Good, bad, or both? I don't really know, but it's how it was. And pretty soon I was living in a big house in Fitzroy North with six or seven housemates, and we seemed to be able to live off the smell of an oily rag.
University classes by day, some naturopathy classes at night at the Southern School of Naturopathy, some casual work for pocket money when I could get it, keeping up my meditation and yoga practice, and having an interesting social life with all of the student friends and others we met – how does a 21 or 22 year old do it all? Looking back from age 60 I have no idea. And I must have followed the news sufficiently to hear all of the stories of the grand Whitlam government getting into all kinds of trouble. Trouble with money, scandalous loans deals with shady Iranian or Iraqi loan sharks!
Finally came that momentous day in November 1975 when it all came crashing down and Mr Gough Whitlam was sacked as PM of Australia. It seemed to me like he had hardly been in the post at all, since I had been absent from the country for much of his reign. I mostly knew him for the excitement and promise of his election win, and now this shocking and unprecedented sacking. I was only dimly aware of what his government had done in its time.
But I was personally reaping benefits of the changes (though I am well aware it is debatable whether the sum total of changes were for the better or not). My benefits included not being in the army, or a 'draft dodger' on the run. And enjoying a seemingly 'free' university education (someone was paying for it I suppose, including even my contemporaries who had gone straight into the workforce rather than to tertiary study). I didn't need any medical treatment, but if I did it would have been paid for by the government. But there were other things, less tangible, that I reckon affected me and many people.
I reckon there was still an immediate memory that by marching in the streets in mass numbers we had quite recently changed something terribly important in our national life. There was some sense of empowerment and involvement that came from that. The previous government wouldn't listen, and when they continued to not listen to a quarter million in Melbourne, the same in Sydney, and tens of thousands elsewhere, they were sent packing. That was one thing. There was definitely a new sense of freedom and empowerment for many women. I think you could sense that in my contemporaries and women a little older. And I had a sense that I could do many things, there were few limits, the world had changed and might keep changing, despite a new government that was vowing to wind back many of the Whitlam period reforms.
Over the next decade I did do many things. I finished my studies, chose not to go down the medical science research path that my degree equipped me for, and traveled some more within Australia. In 1980 I ended up in California. There I studied much more in the field of meditation, yoga and natural healing sciences. Some of that period is mentioned in the BIO on this website. I found California an extraordinarily 'can do' place. If you had an ambition, an idea for a project, everyone seemed to support you and encourage you to DO IT. To me it seemed like a grand flowering of an optimism and confidence that had to a smaller degree flowered in that period of the Gough Whitlam government and its immediate aftermath. Another way of summarising is that through that whole period, 1972 – 1984, I developed a life philosophy that included the idea:
"You can study all kinds of things, and do all kinds of things, and put together your own unique package of who and what you are – even if that package has never been heard of, named or recognized by anybody before"
And whether valid or not, upon hearing of the passing of ex-PM Gough Whitlam this week, my reflections lead me to connect this philosophy with the events of that period of time.
Of course maybe all I am reflecting is that the very formative years of my life were punctuated by certain memorable events that include: Gough shaking the nation by throwing that glass of water in Parliament; the massive anti-Vietnam war moratoriums that seemed to usher in the Whitlam government; that election win; reform, scandal, reform and more scandal; and the amazing dismissal of a government – "… because nothing will save the Governor General!"
Yes, maybe that's all it is. But it was a time of my life, and it does shake you up and make you reflect when one of it's most memorable figures leaves the stage.
What are your memories and reflections? [If you write a comment, remember that this blog page requires approval for posting and it may take an hour to a day to happen].